Our Services :: Post-Adoption Evaluation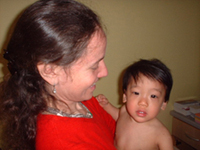 You have done all the research, chosen a child and returned from the adventure of picking your new family member up. But now the real challenges begin, as I will now be able to assess the physical condition of your child in person, and we can begin to work together to make your child the healthiest she/he can be.
This important visit is usually 1 ½ hours long - please be sure you allow time for the appointment during your first few hectic days back home.
Select one of the following links for more detailed information:
• recommended screening tests and evaluations
• common medical problems
• domestic adoption
• CME quiz & bibliography

Fee Schedule available online.
My office manager will work with you to help you receive the fullest possible reimbursement from your health insurance company, but payment in full is required at the time of service.

International Pediatric Health Services, PLLC
Dr. Jane Aronson, FAAP
338 East 30th Street, #1R
New York, NY 10016
P: 212.207.6666
F: 212.207.6665
E: E-mail us
Please be prepared to leave a complete phone number and hotel room number when calling from abroad.